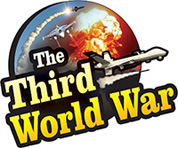 Washington: Russia has warned the United States that 'If the United States attacked Syria, Russia will retaliate. The missiles fired by the United States on Syria, will be shot down by Russia'. The United States President Donald Trump has accepted the challenge. "The 'Nice', 'New' and 'Smart' US missiles will soon target Syria. Get ready Russia, because they will be coming", roared the US President. Thus, the situation indicates that the conflicts between various countries and their fronts may flare up into a full-scale war at any second.
Douma in Eastern Ghouta was attacked with chemical weapons on Sunday and 80 people lost their lives in these attacks. Following this President Donald Trump had chastised the Syrian President Assad calling him a 'beast'. Along with this, President Trump had also given an ultimatum to Russia and Iran, the countries that support the Syrian President. Trump had warned that if Russia was found to have had a hand in these chemical attacks, it would have to pay a price for it. The Russian leadership had made statements challenging Trump, in response. The United States Ambassador to the United Nations(UN), Nikki Haley and Russian Ambassador Vassily Nebenzia had a verbal duel in the United Nations Security Council (UNSC).
United States Ambassador Nikki Haley had warned that the United States will take action in Syria, with or without the United Nations. Whereas, Russia had warned that it will retaliate if the United States attacked Syria. Russia had declared that 'if the United States launched missiles on Syria, Russia will not stop short of shooting them down'. The Russian leaders, military and political officials have started demanding aggressively that if the United States attacks Syria then Russia should retaliate. There were discussions about whether the United States, who warned of an attack on Syria, would back off after Russia adopted this stance. But President Trump asserted that his country will not back off in the conflict and showed that the United States had accepted the Russian challenge.
'Russia has said that if the United States launched missiles on Syria, it will shoot them down. Thus, Russia should be prepared for the best, new and smart missiles, as they would be coming in a short while'. President Trump posted this 'message' on the social media. He made Russia aware of the dire consequences of these events through this post and said, 'Russia should not have stood behind the 'beast' who attacked his own population with chemical weapons and then celebrated their death'.
The news about the Trump post created a stir in the world. The United States Senators have demanded that Trump should target Assad who is involved in war crimes. Whereas, even before the Trump warning came, the United States and its allies had initiated military movements to target Syria. Russia also is sending clear messages to the world that it is prepared for a war.

(Courtesy: www.newscast-pratyaksha.com)