Moscow – The new Cuban President Miguel Diaz-Canel is on his Russia visit, and as per sources both the countries have reached a consensus to strengthen their military ties. Also, Russia has indicated providing military assistance to the tune of nearly $40 million, and an agreement would be made to that effect in a few days. The Russia-Cuba agreement is claimed to be the next part of 'Cuban Missile Crisis' pushing the world into an abyss of a nuclear war.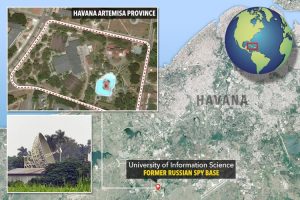 Miguel Diaz-Canel took over as the Cuban President from Raul Castro in the month of April. It is his first significant foreign visit after assuming the office. After his Russia visit, he is also scheduled to travel to China. Cuba's ties with Russia and China have grown over many decades and the opposition to the United States is the common thread. Over the last few months, the relations of both, Russia and China with the United States have consistently strained. Therefore, the Cuban President's visit to both the countries becomes significant.
President Miguel Diaz-Canel met the Russian President Vladimir Putin and the Prime Minister, Dimitry Medvedev in the Russian capital of Moscow. Agreements of more than $260 million were signed between the two countries at the time. These include deals for the railways, energy and automobile sectors. However, apart from the agreements, the consensus the two nations arrived at over the military cooperation is considered to be most important.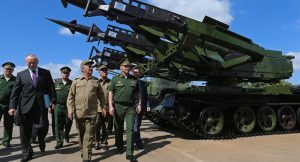 It is the first time since the end of the Cold War that Russia is developing military ties on such a large-scale with Cuba. In 1962, Russia had deployed nuclear weapons in Cuba. "Soviet Russia has declared a war against the United States by deploying nuclear weapons so close to our borders," the then US President John F. Kennedy had warned. He had threatened that an attack would be initiated if the deployment was not withdrawn. Even so, the then Russian President Nikita Khrushchev had refused to comply. Therefore, the two superpowers had reached on the verge of a nuclear war.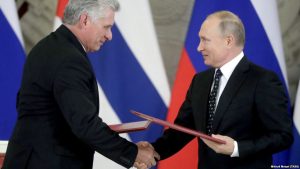 This fracas is referred to as the 'Cuban Missile Crisis'. Today, these Crisis have become synonymous to a 'dangerous situation'. Also, though the crisis was averted at that time, few news agencies have claimed that its second edition is about to begin. The tensions between the United States and Russia are on the rise, and the former has withdrawn from the Intermediate-Range Nuclear Forces (INF) treaty. As per some military analysts, the military cooperation developing between Russia and Cuba under such circumstances gives an inkling of a dreadful crisis ahead.
मराठी
हिंदी
Click below to express your thoughts and views on this news: