Washington/Beijing – The US officials have claimed that Chinese hackers have stolen sensitive information regarding the advanced US submarines and the weapon systems deployed on them. The Federal Bureau of Investigation (FBI) has initiated investigation in the matter. It has been revealed that the incident occurred at the beginning of the year. At a time when the United States is aggressively working on the deployment of aircraft carriers and submarines in the South China Sea and Pacific region, this revelation has created a sensation.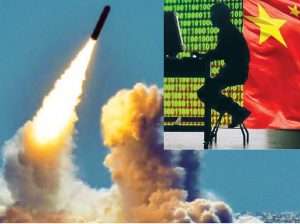 The matter of the Chinese cyberattacks has been reported by the Washington Post and CBS News in the US media. The report claims that hackers controlled by the Chinese government have stolen very important and confidential information of the US Navy through a cyber-attack. It has been revealed that China has stolen the information from a contractor working for the 'Naval Undersea Warfare Centre'.  This Centre is responsible for the research and development of submarines and the weapon systems deployed on them.
The United States officials refused any information about the contractor or the company involved. However, it has been revealed that a huge quantum of data, to the tune of 614 GB, has been stolen by the Chinese hackers. This includes information about a highly secretive project called the 'Sea Dragon'. Besides this, the 'Signals and Sensors Data', information about 'Cryptographic Systems' on the submarines as well as information from the 'Electronic Warfare Library', has also been stolen.
The 'Sea Dragon' project is said to be a part of the scheme to develop supersonic missile systems on the submarines to target warships. The US Defence Department had made a provision of USD 300 million for this project in 2015. It is believed that the submarines to be deployed by the US Navy from 2020, were to be armed with these supersonic missile systems.
China has been carrying out theft of confidential information from the US defence sector for the past many years. Earlier it had been revealed that China had stolen information of the advanced fighter jet 'F-35', 'Patriot missile system', 'Thaad' anti-missile system and the 'Littoral Combat Ship' of the US Navy. It has also been exposed that the Chinese drones have been developed using the technology stolen from the United States. Although the United States has constantly expressed concern about the issue, it has not been able to stop the thefts.
Since the last few years, the United States is aggressively carrying out defence deployment in the South China Sea and the Pacific Ocean regions to counter China. This includes deployment of aircraft carriers and advanced missile systems. At a time when the movements of the US Navy are increasing in the regions near China, such sensitive naval information falling into the Chinese hands is considered to be a warning bell for the United States Navy.
Click below to express your thoughts and views on this news: