Washington: – "The United States will continue to exert pressure on China to open its markets. Thus, the United States can once again incorporate the "poison pill" provision while signing trade agreements with the other countries," hinted US Secretary of Commerce Wilbur Ross. Only last week, in a   trade agreement with Canada and Mexico, the United States had included the provision to deter trade deals with China. Ross indicated that the countries which aspire to sign trade deals with the United States in the future should be prepared for such provisions.
US President Donald Trump has attained success in negotiating trade agreements with Canada, Mexico and South Korea in the last one month. The agreement signed with Canada and Mexico is a multinational agreement that replaces the earlier NAFTA agreement. The new agreement has been named 'US-Mexico-Canada agreement' (USMCA). In this agreement, the United States has incorporated an aggressive clause against China which is referred to as "poison pill".
According to the USMCA agreement, if any of the three countries in the agreement enters a trade deal with a country that has not been granted "Market Economy" status, the other two are free to quit in six months and form their own bilateral trade deal. It is believed that the said provision has been added on President Trump's instructions.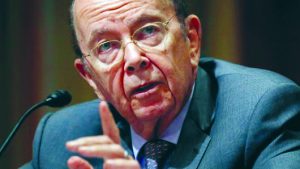 The United States and the European countries have not accorded China the status of 'Market Economy'. Therefore,it becomes clear that the provision in the USMCA is aimed at China. Wilbur Ross in an interview said that the provision was "another move to try to close loopholes" in trade deals that have served to "legitimize" China's trade. He called the provision a "poison pill" and signalled that the US may replicate it while signing agreements with other countries.
In the near future, the United States is looking forward to negotiate agreements with the United Kingdom, Japan and the European Union. China is said to suffer a big blow, if the agreements with these three countries include "poison pill" clause. The United States is asking these countries to choose either the US or China as their trading partner. This decisive stance of the United States to deny trade cooperation with country that aligns with China proves to be the next phase of the trade war.
China can prominently witness the impact of the decisions taken by the United States in the ongoing trade war so far on its economy. As a result, China has sped up countermoves to prevent the trade war. Cui Tiankai, the Chinese Ambassador to the United States, has said that his country is ready to make a deal to end a trade war with the United States.
मराठी
हिंदी
Click below to express your thoughts and views on this news: